This "Bench of Dreams" is located at the base of Mt. Rasur, near the University For Peace in Costa Rica.
Visitors are asked to place a pebble or stone in each hand, press the two hands together, and, with eyes closed, to dream. When opening the eyes, one stone is thossed onto the Earth, so that the sacred Earth will remember the dream, and the other stone is taken home as a reminder of the dream.
Next to the above "Bench of Dreams" is the small indigenous farmhouse where Robert Muller wrote his "2000 Dreams and Ideas for the Year 2000". At present, and prior to the year 2000, over one-hundred of his dreams have been fulfilled!
The two dreams below, dreamt by Robert, are also on the verge of coming true.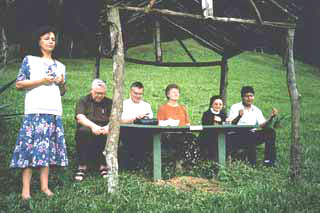 Bench of Dreams, Muller Peace Park, Costa Rica